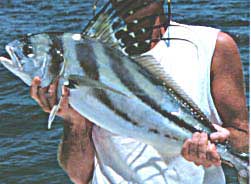 A trolled rooster is one of the many prizes you'll find in inshore waters.

by Gil Mendiaz
The secrets to success combine a smart strategy and the right lure choice.
The introduction and education I received as a young man exploring and fishing in Baja started some 30 years ago, the first time I visited the Sea of Cortez in 1968. The gentleman I worked for at the time owned a small plane and invited my brother and I to join him on a visit to Gonzaga Bay. That would be the beginning of a 30 year affair with the culture, people and fishing found only in Baja and the Sea of Cortez.
Don't mentally target a single species. Enjoy a colorful barred pargo as you would a dorado or tuna - many inshore species give as good (or better) fight for their size than "big game" fish.

My initial exposure was the productive area roughly 40 miles south of Puertocitos, 90 miles south of San Felipe. It provided some of the most incredible and diverse fishing I had experienced at the time. We caught huge trigger fish, spotted bay bass, ribera, cabrilla, yellowtail, pompano, leopard grouper and the local version of barracuda. Some of the bigger game fish included hogfish, dorado, skipjack, barred pargo and an occasional gulf grouper. All are still available today.

Although the first two days of fishing were meager at best, due to my lack of experience, we soon learned the proper way to fish this area from a great, old, local guide. Guillermo Smith. In time, what we learned proved to be the most consistent fish-catching strategy to use from San Felipe to Cabo San Lucas. Today, we have improved on some of the equipment and lures, but the basic approach is still the same as first demonstrated to my brother and I so many years ago.

STRATEGY FIRST AND FOREMOST
So how do you start? If you are fortunate enough to have a portable fish-finder with you, or are fishing from a Mexican cruiser or super panga equipped with one: Turn it on now! This way you will not miss any fish that are within striking distance of your boat.

As soon as you leave the beach and have your lures tied on, begin trolling immediately. Chances are you will get that first strike within the first 150 to 350 yards of your start. This is the smart way to operate. If your goal is to increase your catch rate and the number of hookups on a multiple number of species, don't run to a reported hot spot or to working birds well off in the distance, or even that famed reef or island you may have read about.

In these productive Baja areas, begin where you are and only strike out for new water when you are certain that there are no fish present. Also, when inshore trolling, do not develop the mentality of targeting only one species. Fish to catch whatever is in the area. To limit species is to limit total success.

DEFINE YOUR PARAMETERS
Study your maps/charts and get a grasp of the zones that will provide the desired action, meaning variety of species and increased catch rates. In almost all Baja fisheries there are two depth zones and most are near shore: under 100 fathoms is shallow water and over 100 is deep. There is nothing in between. In this article, we are concentrating on the shallow, since this where 75 percent of the home guard and migratory species are caught. Specifically we're looking at medium jacks, snappers, triggerfish, and some bass types.

The method for fishing shallow water is to slow troll at two to four knots, maximum. Supplement your trolling by casting swim baits to exposed rocks, boilers and over submerged shelves. If you're not at the helm, direct your skipper to run a pattern of zigzags or figure eights over the shelves, drop-offs or other detectable structure.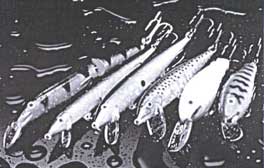 This selection of Rapalas works well when slow-trolled over shallow reefs.

In Baja fishing, this shallow water technique provides the most strikes when incorporating small, diving baits, among those, Rapala Slivers (SL13) in needlefish silver or green and yellow, or a CD11 Rapala in green, blue or purple mackerel or in fire-tiger or mullet. Swim baits should include II Sharp Slammers, Fish Traps or AA soft plastics. Each of these lures provides a very natural representation of the available inshore baitfish. And by carrying them, you cut down on the need for live bait.

The advantage of using these small lures is you invite all the local resident fish to take a good look and take a bite. Using these smaller lures does not preclude the catching of larger fish. Your lure selection may also be expanded to include Luhr Jensen Krocodiles, Crippled Herrings, Stingers and the smaller II Sharp 25 iron jigs or four inch Fintas-tiks.
Run a pattern of zigzags or figure eights over the shelves, drop-offs or other detectable structure.

Your rods for this type of trolling should be 6 1/2 foot live bait sticks so they can also be used for casting and retrieving. My choice of reels for this application is either a Penn 555GS or a 25GLS strung with 30-pound line. The swim baits should be cast using seven foot rods with Penn 545GS and 25-pound line.

Each of these artificials should be tied directly to the line without swivels to give them the best possible, natural swimming action. What it all comes down to is the illusion management. Learn and understand that all gamefish, shallow water or deep water are creatures of habit and reaction. By becoming a "Master of Illusion" and inducing the inherent eating response, you will become one of the elite Baja anglers.